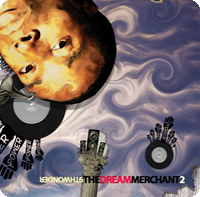 On: What sparked the solo album and the album title. - as told to ThaFormula.Com
9th Wonder: Well I always do records for other cats, whether it be me in a group or me doing a record for Murs, Jean or Buckshot, so I wanted to do a record that was actually my record for a change. The whole "Dream Merchant" concept came around like 6 years ago, but I'm just now getting around to putting it out.
Track 1 "Mr. Dream Merchant Intro" - as told to ThaFormula.Com
9th Wonder: Actually Big Dho put together that intro. I really didn't have an intro at the time and he kind of threw the different songs in there and made it creative. He put together the "Intro" so there is not really much more to that, but you know there is a lot to what he did to it.
Track 2 "Shots" Ft. Big Dho and Sean Price - as told to ThaFormula.Com
9th Wonder: "Shots" was a record that I kind of dared Dho to do and Dho is my manager. He was like "when you gonna put me on a track?" So I was like "alright here's your chance, you wanna get on a track, here you go." So he got on the joint and it came out pretty dope. Then we just put Sean P on it and that's "Shots," Dho came up with the hook and everything.
Track 3 "Merchant Of Dreams" Feat. The Embassy, Skyzoo, and Torae - as told to ThaFormula.Com
9th Wonder: "Merchant of Dreams" was a track that I finally got introduced to Skyzoo on because I hadn't heard a lot of Skyzoo's music and Chaundon was like "yo put my man on this track" and then Torae was added after that because Skyzoo and Torae run together.
Track 4 "Brooklyn in My Mind" - feat. Mos Def, Jean Grae and Memphis Bleek - as told to ThaFormula.Com
9th Wonder: "Brooklyn in my Mind" was a track that I caught a lot of flack over. For some strange reason I was a hated man for that track. They were saying "I had no business doing it, I'm not from Brooklyn" but neither was Preem (DJ Premier) or Ali Shaheed (Muhammad). That's one of my favorite joints on there as a matter of fact. I picked the artists. Mos Def did the "Brooklyn in My Mind" verse and "Let It Go" (from Little Brother's "Separate But Equal" mix tape) in the same night. Then Jean came in after that. Memphis Bleek catches so much flack for his work or whatever but I wanted to put him on there because of the fact that they are all from Brooklyn. But I wanted 3 different sides of Brooklyn and I also wanted a female to be on a Crooklyn Dodgers track being that there has never been a female on there. That's why Jean says "this is history twice" on the track. As far as the flack, you know me, maybe it's my old age but I don't really care. The Internet is gonna talk, they got nothing else to do.
Track 5 "Sunday" Ft. Keisha Shontelle and Chaundon - as told to ThaFormula.Com
9th Wonder: Sunday was a joint that we did like almost two years ago. A lot of people love that joint man. We put Chaundon on it because we wanted to add a rhymer to it, and that's one of her (Shontelle's) stronger songs man. Her song sounds like a North Carolina Sunday, that's exactly how it is out here when it's nice outside.
Track 6 "Baking Soda" Feat. Big Treal as told to ThaFormula.Com
9th Wonder: "Baking Soda" is with my man Big Treal from Charlotte. He's like my residential Goodie Mob type of MC. We had been doing so many songs and "Baking Soda" is one of the songs that stood out, and you know that's him singing on the hook. That's one of my favorite songs on there too.
Track 7 "Reminisce (Take Time)" Feat. Big Remo and The Great Novej of The A.L.L.I.E.S. - as told to ThaFormula.Com
9th Wonder: That is a track that I actually didn't record. Novej from The A.L.L.I.E.S. recorded that song and they did a total of 4 songs in like a weekend or something and "Reminisce" was one of the joints that they did and I decided to keep it. I thought it was so dope that I said I wanted to put it on "Dream Merchant."
Track 8 "No Time to Chill" Feat. Little Brother - as told to ThaFormula.Com
9th Wonder: "No Time to Chill" was an "after Little Brother break-up" song which is a dope track. Actually, I'm sorry, Little Brother still exists, so it's an "after 9th Wonder left" song or whatever you want to call it, or you know what, when Little Brother changed from 3 people to 2 people, its Little Brother. It's not an old track, it was recorded like in March (2007) or sometime around there.
Track 9 "It Ain't Over" Feat. Jozee Mo & Tyler Woods - as told to ThaFormula.Com
9th Wonder: "It Ain't Over" is by my man Jozee Mo and Tyler Woods is like my first R&B artist. That's one of my favorite joints and I like it a lot, yeah I like that joint a lot.
Track 10 "The Last Time" Feat. Royce the 5'9, Naledge, and Vandalyzm of The Midwest Wreckin' Crew - as told to ThaFormula.Com
9th Wonder: The Midwest Wreckin' Crew, Detroit, St Louis and Chicago. That's a name that me and Dho made up kind of like the "Minnesota Wreckin' Crew" if you watched your wrestling back in the day. Royce started it off, he actually sent me his verse and it kind of set the bench mark for everybody like "okay you really want to make it on this song, you listen to Royce, you got to bring it dude."
Track 11 "Saved" Feat. Saigon and Buckshot - as told to ThaFormula.Com
9th Wonder: "Saved" is a track that kind of came out of a track from a verse that Saigon gave me and I had it over a different beat. So we put it over this beat and then Joe Scudda came and heard Saigon's verse and was like "yo, that joint is hot." At the last minute Flash put the scratches on it.
Track 12 "Milky Lowa" Feat. Camp Lo as told to ThaFormula.Com
9th Wonder: That's a track that I did with Camp Lo of course and that was out of a series of like 2 or 3 tracks that we've done together. Another one that we did called "Get it, Stash It" is on my upcoming album "The Wonder Years." It's always like eerie man to work with cats that came before you, it's a funny feeling but it's always an honor to work with cats like that, always.
Track 13 "Backlash" Feat. Sean Boog and Buckshot - as told to ThaFormula.Com
9th Wonder: "Backlash" was Boog's dream come true because Boog is a big Boot Camp fan. So I did "Backlash" for Boog because I wanted him to get a chance or opportunity to do a jam with Buck.
Track 14 "Thank You" Feat. D.O.X. and O-Dash - as told to ThaFormula.Com
9th Wonder: That's one of my favorite tracks too. After it was done, everybody was sitting around like "Wow!" D.O.X. and O-Dash came off on that, you might have heard D.O.X. on a couple of things and you heard O-Dash on (Big) Pooh's record "Sleepers."
Track 15 "Let It Bang" Feat. Skyzoo and Ness - as told to ThaFormula.Com
9th Wonder: Ness did that the week he was down here when we did the "Never Heard Before" Ness record that the world will not be able to hear ever. So me, Skyzoo and Ness did "Let It Bang" and I thought it was dope. I think Skyzoo used it on a mix tape or something but I decided to use it anyway though. I talk to Ness a lot and he's trying to figure out what we are gonna do because I mean, you know we're dealing with Puff and we really have to kind of watch that.
Track 16 "What Makes a Man" Feat. Rapper Big Pooh and Buddy Klein - as told to ThaFormula.Com
9th Wonder: Again, one of my favorite tracks man, I really like "What Makes a Man," that's a mean track. I really like that song because of the way Pooh set the format up. When I played the beat for Pooh he was like "I don't want to do it like a normal just rap, hook, rap, hook." They didn't put the hook in until the end which I found kind of dope for Pooh to do that.
Track 17 / Bonus Tracks: "Special Remix" Feat. Strangefruit Project - as told to ThaFormula.Com
9th Wonder: As far as tracks that didn't make the album, there wasn't none really. Everything that made it, made it. Now there is one joint that we've got on there, "Special (Remix)" by Strangefruit Project. I put that on there as a bonus cut on the record. I wanted to put the original "Special" on there but they ended up keeping it for their album which is totally fine because I'm a big fan of Strangefruit.
On: Thoughts on the album and future projects - as told to ThaFormula.Com
9th Wonder: This album is a setup album for "The Wonder Years," which is coming soon to a city near you. "The Wonder Years" will be out January 29th so I have plenty of time to get this thing right. But yeah, this is my setup record for it because from October 9th to next summer man, you're probably gonna see about 6 or 7 brand new 9th Wonder albums come out. "The Dream Merchant" is done, there's a Buckshot record, there is a Murs record, me and Skyzoo are doing another one, Young Guru from Roc-A-Fella just mixed "Jeanius" with Jean Grae and I also have artists myself too. There is just so many records that are gonna come out, and I really don't care what the industry is doing. As far as this record, the people should expect the classic 9th Wonder sound. Some people say that they want me to change, but then when I change a little bit some cat will get on the Internet and say "I want the old 9th back." Oh Lord make your minds up man, so that shows that you can't please everybody but you know its just classic 9th Wonder man, Boom-Bap Soul records. The feeling of soul, you know the feel good music, 'cause you know I'm a feel good producer. I don't make a whole lot of dark, I want to ride down the street and shoot kids music, so just expect that. I'm a happy dude and I make happy music.
"9th Wonder "Dream Merchant Vol. 2" Album Sampler"
Get a sneak preview of 9th Wonders upcoming album "The Dream Merchant Vol. 2" In Stores October 9th...Download Now
feedback: info@thaformula.com
Be sure to join the over 600,000 Industry Heads that have signed up to our exclusive mailing list!! Click here to join and receive exclusive interviews only available to members. Leave contact info ( name, email address, city, state, and country) at info@thaformula.com.