| | |
| --- | --- |
| REVIEWS | Print | E-Mail Story |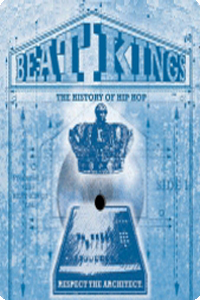 As much as writers may understand the music or an artist when they set out to interview their subject, there is still a discourse, a gap that they cannot bridge because they are not an artist themselves and don't necessarily understand exactly where their subject is coming from, but when an artist interviews another artist it brings a new dynamic to the interview. I've always enjoyed reading or listening to that type of interview and it's a large part of why I consider this DVD a necessity for any Hip-Hop head.
Allah Mathematics of the Wu-Tang camp set out and interviewed almost 2 dozen of the Hip-Hop industry's most respected producers and sat down and interviewed them himself one on one. Mathematics asks the questions that up and coming producers want to ask and that beat heads / fans of their music can appreciate. Just some of the artists Mathematics sat down with are Marley Marl, DJ Premier, RZA, Pete Rock, Alchemist, Kanye West and Easy Moe Bee. David Banner who's always got something to say, was no different in his interviews here and very candidly speaks on why he got into production as was Premier who speaks on "faggot, bitch music." Salaam Remi will probably turn some heads with his interview especially when he starts to run down his discography, a lot of viewers will probably not be up on just how varied the artists he's worked with is.
Clocking in at just over an hour, the disc is broken down into 10 very focused chapters. While chapters like "Equipment: Tools of the Trade," "Influences: The Foundation," "Hip Hop Today: Under Construction," and "Discography: Built to Last" where artists run down the tracks that built their career are definite highlights, each and every chapter is very insightful. The only material on here that you may want to skip is the bonus beat battle, but that's why it's bonus material and not part of the main feature.
All the knowledge and insight dropped on this disc is easily worth more than the purchase price, but the icing on the cake is the ill score produced entirely by Mathematics himself. Every beat on the disc is solid, and will hopefully make it onto some artist's albums.
The only thing really missing on the disc that would have been a nice feature is an isolated score of Mathematics' tracks, it would be a short score given the running time on the disc, but it would have been a nice promotional tool for Mathematics himself who wasn't afraid to fall back and let all the producers he interviewed know how much he respected them and who ultimately put this project together for the love of production.
feedback: info@thaformula.com
Be sure to join the over 600,000 Industry Heads that have signed up to our exclusive mailing list!! Click here to join and receive exclusive interviews only available to members. Leave contact info ( name, email address, city, state, and country) at info@thaformula.com.