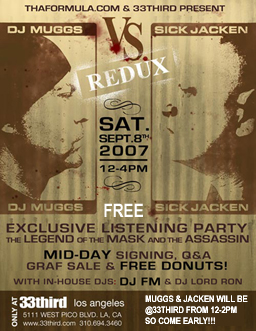 "This DJ Muggs right here checking in fresh back from the Magic Convention, straight from fucking Las Vegas to San Diego, just Dj'ed Friday night. I came home to do the in-store right now here at 33third Los Angeles with Sick Jacken for our new album and the cops just ran up in this muthafucka and now they got riot gear out here and I'm counting 1,2,3,4,5,6,7…15 cop cars with riot gear for a fucking music in-store. I don't get what is going on right here? It's like some martial law. They just ran up in the store and just threw muthafuckas out and they got riot gear on like there is something going on here? It's a fucking in-store yo! These cops are losing their fucking minds out here. They're really scared. I tried to tell them, we are American civilians, you are supposed to protect us and our way of life and your over here treating us like were fucking Osama Bin Laden and shit, shit! I don't know what's going on man.
I've got to get out of hear and go DJ the A Life grand opening right over on Fairfax. A Life is opening their store on Fairfax ad I'm gonna shoot over there right now, and get on the wheels of steel. I'ma kill it and tomorrow night and every Sunday night and I know its a shout out and its a journal and all that, but its called club BomBoClot on the beach in Venice, so you should come out to my club. Venice Beach, Club BomBoClot, holla!"
33third L.A. & Thaformula.Com Present Once Again This Saturday September 8th, 2007 12-4pm DJ Muggs Vs. Sick Jacken Exclusive Listening Party 2: For The Fans @33third Los Angeles...
It All Goes Down:
This Saturday September 8th, 2007...
Time: 12pm-4pm
Where: 33third Los Angeles 5111 West Pico Blvd. Los Angeles, CA 90019
Info: www.thaformula.com & (310) 694- 3460
THIS EVENT IS FREE: EVERYONE WELCOMED
NO RSVP REQUIRED!!!
**ATTENTION** DJ MUGGS & SICK JACKEN WILL BE @33THIRD FROM 12-2PM SO BE SURE TO SHOW UP EARLY. WE WILL BE PLAYING THE ALBUM ALL DAY...
---
DJ Muggs Myspace: http://www.myspace.com/djmuggs
Police Break Up DJ Muggs Vs. Sick Jacken Listening/Signing:
.............................................................................................................
dj muggs of cypress hill JOURNAL ENTRY #1
-Tuesday August 28th, 2007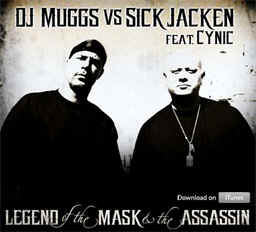 "What the deal yo! DJ Muggs once again checking in live and direct from the City of Angels fresh off of the Rock the Bells tour in San Francisco. I went over there and we did the Frank 151 party. In case you don't know I'ma tell you, with Frank 151 magazine we just did the whole Soul Assassins Edition. Had all the homies in there, Big Left, Cartoon and you know all the homies were up in there. So you know we just got back from doing six parties around the country for them.
I'm back in L.A. now gearing up for this DJ Muggs Vs. Sick Jacken "Legend Of The Mask & The Assassin" album and getting ready to drop that shit on September 11th and in the midst of doing all that, we're about to hit this 3 week tour in Europe. I'll be DJ'ing and doing some shows with Jacken and also I'm about to do this score for this Keanu Reeves and Forest Whitaker movie called "The Night Watchmen" which is from the creators of Training Day, my man David Ayer who wrote Training Day and directed Harsh Times. We're watching the screening tomorrow and we start the soundtrack tomorrow night. So over here in the Soul Assassins camp we are doing a lot of shit right now. But that's just today though, when I talk to you all next time, I'm gonna tell all you muthafuckas what's cracking with us over here full time."
But get ready for "Legend of the Mask & The Assassin," Jack and me put some time into that muthafucka. We took 3 to 4 months and worked on it on some unadulterated Hip-Hop, shits gonna be cracking so get ready for the bombs!
---
DJ Muggs Myspace: http://www.myspace.com/djmuggs
Legend Of The Mask & The Assassin Trailer
feedback: info@thaformula.com