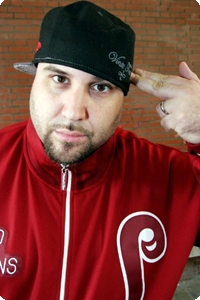 "Well, I'm in the studio right now. I just recorded a couple of joints for this CD that I'm working on with Crooked I right now and I'm real excited about that. That's something dope that I don't think people were really expecting so you know we are throwing them a curveball right now. Me and Crook are gonna get this shit poppin'. We've got Blue Sky Black Death doing the beats. They brought me and Crooked together so we are gonna give you a little bit of that East Coast and that West Coast shit and bring it together and let that shit collide over some banging production. These dudes are mega underrated but they are definitely coming up in the game and grinding really hard right now and I could appreciate that because I'm doing a lot of production right now quiet as kept.
I'm branching out on the beat tip and I'm real happy on the response I've been getting for the tracks I did on the new Army Of The Pharaohs album and I've got to big up Sick Nature, that's one of my production partners. We've been working on a lot of stuff together. He worked with me on the beats that we did on the Army Of The Pharaohs record plus I'm working with Q-Unique on a bunch of beats plus I'm in the cut for dolo at the same time. I did a beat for the brand new Special Teamz album which I think drops in like a week and I actually produced the title track. It's a track called "Stereotype" and if you don't know who Special Teamz is, that's a group out from Boston consisting of Slain from La Coka Nostra, Jaysaun and Ed OG and these dudes are crazy. The album is coming out through Duck Down and it's a really dope album and I'm featured on it as well. I spit a hook on one of the joints called "Dirty Money" and it's real dope.
You know Duck Down has been doing their thing for years. Shout out to Buckshot, Dru Ha and my man Sean Price. Sean Price and me have been talking about working together for a really, really long time and we are finally about to get it poppin' and we're not just gonna record a joint, we are gonna do a whole CD. I know it sounds crazy.
I'm definitely doing a lot right now between the solo shit, the Coka Nostra shit and this Crooked I CD, this Sean Price CD and actually I don't think anybody has heard about this one yet, but I'm about to do a bunch of shit with Jeru the Damaja as well. So it's been a blessing man and you know its better busy than bored and I feel really blessed to be able to put in all this work right now. This is what I love doing so I'm in a real good mental space right now.
We've got to finish this La Coka Nostra record. Right now we've got a bunch of different offers on the table for that and we're gonna put the finishing touches on that in a minute. Snoop is about to jump on the record and then it will pretty much should be done after that. The response for La Coka has been off the hook. We just did a couple of shows in Europe and we had thousands of kids coming out and they knew the words to the joints and everything and we haven't even put out a record yet. It's just off of joints that we leaked off of the Internet.
My solo album got delayed but just so y'all know, the album is done. There is one more joint that I'm gonna do and the only reason why I'm doing this joint is because I can do it because I have the extra time and I don't feel like the album is done unless I have a Primo cut on it. So Primo is in the lab right now finishing up the beat for me. He is gonna hit me with it right before I leave to tour, I'm gonna write it while I'm on tour and come back and drop that shit as soon as I'm back from the tour. It will be the last thing I do before the album gets handed in to be pressed up because the album is dropping early 2008. So look out for "The Hour of Reprisal" on Uncle Howie Records CD/DVD. We've got the last show that I did at CBGB's before CBGB's closed down and I don't even need to big up CBGB's because y'all know that's like the legendary spot and it's fucked up that it got closed down the way it did. There is a lot of bullshit politics behind the scenes shit involved as far as why the spot got shut down, but luckily I was able to bring five cameras in there and mash it out before they shut it down. So that's like a bonus that is gonna come with the album.
As for the new record, just to get to work with Muggs and the whole list of people that is on the record was dope, I could list it again but all you've got to do is Google Ill Bill "The Hour of Reprisal" right now and you will get a list of everybody that is on the record. I'm sure I'm forgetting shit, but we are gonna keep this moving and we are gonna keep doing this. I'm gonna keep checking in with ThaFormula while I'm out on tour so whatever I forgot about right now, I'm gonna catch you up on the next time I speak to you all. Oh, and don't forget to buy the Necro album, "Death Rap" in stores right now. For those that don't know, that's my real brother, that's my physical. I'm on the album, so go support Psychological Records in stores. Big ups to Necro and yo, I'm out!
Ill Bill Myspace: http://www.myspace.com/illbill
---
feedback: info@thaformula.com