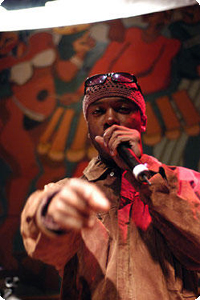 On: Naming the album "Perseverance" and Madlib producing the whole album - as told to ThaFormula.Com
Percee P: Well my album is called "Perseverance." the reason I called it that is because I've actually been rhyming since 1979 and I started recording professionally on records from 1988 until this present date which is like 19 years so it was very hard for an artist who came out in the 80's who never really made an album, but managed to survive all these years to finally come out with a debut. I mean that's perseverance because there were plenty of years where I could have thrown in the towel. But I'm Hip-Hop in my heart because I really started wanting to rhyme more because I saw cats in the park throwing jams so that's the reason I became an MC, not because of the labels and videos. So I just persevered through the years and I'm still around and I had to go in the street to keep my name alive when I didn't have a record. So I survived mainly on the streets to and that's what kept my name around until I could come back out with a new album like this one on Stones Throw Records. That's how I met them grinding, and that's Perseverance and that's something that everybody needs to have in this business cause everything ain't always gonna be uphill for you. Things are gonna be downhill too so you've got to just take it and just try to use it as experience and motivation to keep you striving and wait for the day to come. Today is my day now and the album is out everywhere.
Basically when the Stones Throw guys met me, it was Wildchild, Madlib, Peanut Butter Wolf, Romes and Egon and they bought music from me of like tapes and stuff that I had and they was telling me how they were out here in New York doing a show tomorrow and I was like "word I'll come through." I said I'm an artist too, my name is Percee P and they said, "oh you are the same Percee P that worked with Lord Finesse" and I was like "yeah," and they were just like "oh man." So Wildchild had wanted me on video and got footage of me that's on the "Packumentary" and both of them were like "yeah we are recording a new album and we would love to try and do something with you." Madlib was like "I definitely would like to produce a whole album with you" and then they asked me while I was recording my album to be on the Jaylib and the rest is history.
Track 1 "Intro" Track 2 "The Hand That Leads You" - as told to ThaFormula.Com
Percee P: Well originally that track was done to another beat. Madlib took my vocals and that's a remix actually on my album that you are listening to. They put the singing vocals that comes in every once and while when I'm rhyming and on the hook part, so basically it's a different record. But when I'm rhyming braggadocios style, just busting rhymes for MC's, but I'm actually saying a lot too. When you listen to my rhymes, I'm talking about personal things I sometimes go through and am trying to say something that is motivational to another artist who is on the street grinding and feeling that maybe people are sleeping. So I'm trying to give pride to those people. So hopefully if you're listening, it might be something that you might find motivational.
Track 3 "The Man to Praise" - as told to ThaFormula.Com
Percee P: That's a story rhyme. I actually said that in a rhyme a long time ago. It's a rhyme that I wrote in 1990 but the rhyme got quoted in the Source Magazine in 1992 and I threw that same rhyme on Lord Finesses' album. The song is called "Yes You May" and it got me rhyme of the month in the Source magazine. The remix to the song is the first song Big L was ever featured on. But in that verse I said, "Percee P is the man to praise" in the rhyme and "that man to praise" is something that a lot of people always say when they see me. So it gave me the idea and basically is something that one day people will give me some homage or recognize me for when my day comes and people can kind of congratulate me on what I'm doing. So it's basically my story. I'm telling you my whole Hip-Hop history of 1979, moving up to date. Things I have been through in my past, how I felt when I wasn't getting no props and so on. "The Man To Praise" sounded more like a story beat. It's a slow kind of mid-tempo beat, its melodic and its something that I could sell my story rhyme too, where it wasn't all fast, you could follow me and it's still musical.
Track 4 "Legendary Lyricist" Ft. Madlib - as told to ThaFormula.Com
Percee P: That's a song where people say I'm a legend in the game, but I'm a lyricist though. Madlib is on the hook and when you listen to that song, I'm talking about a lot of things I've been through. I talk about me standing on the corner and grinding on the street differently. I'm talking about the heat and the winter, all that stuff I talk about in that song. A lot of times people might look at me because I'm on the street selling CD's that I'm probably not doing nothing but that, but really it's up to you when you listen to that song. But then you go on stuff like Myspace and you can see I showed you visually what you don't see me doing when I'm actually just coming around just slanging a CD. "Legendary Lyricist" is more of a break beat feel. When you listen to the drums it sounds like something that people would say "this is something that they was doing in the golden era." I'm from the parks so I'm trying to make something that feels like something you would have heard back when cats was rocking in the parks in the Bronx. So I try to pick that feel that people can say "ah this is that authentic Hip-Hop feel from back then that's really kind of missing now." So I'm trying to bring back that feel when you listen to that.
Track 5 "Watch Your Step" Ft. Vinnie Paz & Guilty Simpson - as told to ThaFormula.Com
Percee P: That's a grimy beat. The beat is grimy. That beat is featuring me, Vinnie Paz and Guilty Simpson. So it's all of us representing different places. I'm out here in L.A. and I'm from New York, Guilty is from Detroit and Vinnie is from Philly. I think that beat has a commercial and underground feel. To me underground Hip-Hop ain't a sound, its the condition your in. I want to be a mainstream artist if possible. I'm not gonna change what I'm doing to be mainstream though. I don't believe you have to change your sound. So that song has Guilty Simpson doing the chorus and I believe those cats that are on the grind that's really not all into Hip-Hop, but more on the mainstream tip, they could listen to that song and relate to that song on the strength of the beat and the hook. Vinnie Paz, I was featured on his Jedi Mind Tricks "Visions of Gandhi" album and that was my way of reaching back for somebody that looked out for me to from the East. Guilty was down with J Dilla so that was one of J Dilla's big homies and he brought him in. So that was my way of trying to pay homage and put on my album somebody from Detroit who is trying to get on because they have good music but they just need the exposure. He made the title so basically "Watch Your Step" was something that he made.
Track 6 "Who With Me?" - as told to ThaFormula.Com
Percee P: It's just me getting lyrical basically the hook is "yo who with me? If you with me, you are gonna support me? This is my time and I want to know if your hearing me out there?" because if you've known me for years I always been a lyrical cat, but cats be like "yo man, that lyrical content ain't really around." This is your chance to actually hear that type of stuff that you're claiming that you're not really getting. So I basically had to bring it. So it's basically just me asking for support and for you to give it up to me when I come to your town.
Track 7 "2 Brothers from The Gutter" Ft. Diamond D - as told to ThaFormula.Com
Percee P: I'm from the gutter. I'm from one of the worst slums in America man, South Bronx. Diamond D is from the South Bronx just like me so basically we are from the same part of the Bronx, but just a little distance away but still the South Bronx. I called it "Brothers from the Gutter" because that's where we are from and we represent a lot of cats from the hood all over America that knows what it is to be out of there. But I think the gutter just makes you stronger as a person because if you grew up poor in poor conditions, you didn't grow up fortunate enough to have swimming pools and back yards and I grew up around a lot of burned down buildings and cats on the corner and heroine and crack. And that's before, the Bronx been tore down before the crack era. I'm talking about the 60's and if you've seen footage it was before crack so I've seen it like that. A lot of places have said when crack came their communities went bad but I seen that before crack even came into play and when crack came its something that just got worse. You can see footage on my Myspace page of how it used to look and how they're starting to fix it up and make it look a little better.
Track 8 "Ghetto Rhyme Stories" - as told to ThaFormula.Com
Percee P: That's a story of how people get caught up with girls chasing after the wrong type of female and you wind up getting messed up. Get killed, and jealousy chasing after these girls. A lot of females sometimes can get you caught up, they could be having a whole bunch of guys and the next thing you know you are caught up in a situation with other guys because they are not telling you what's up. You end up getting hurt or killed because they are not telling you what's up. So it's basically a story that people can relate to from all over.
Track 9 "Throwback Rap Attack" - as told to ThaFormula.Com
Percee P: It's a straight B-Boy type of beat. I brought back some drums that make you feel like this is something that B-Boys can get down to. A lot of my other songs do too but that song is basically a one-verse song kind of like "Lung Collapsing Lyrics" which I did back in the past. People were always like "yo are you ever gonna do something like that again." This is your chance to hear it again. One verse, straight hard drums that sound that you ain't getting no more. When you hear that beat it sounds strictly old school like a break beat type of feel. That's what I'm spitting on but it's a non-stop verse and it goes straight through.
Track 10 "No Time for Jokes" Ft. Chali 2na - as told to ThaFormula.Com
Percee P: It's me and Chali 2na from Jurassic 5 spitting on there. So we switch it up, I say Boogie Down, he says Chi-Town because that's where he is from originally. So we are just letting people know where we are from.
Track 11 "Last of the Great" Ft. Prince Po - as told to ThaFormula.Com
Percee P: That's me and Prince Po, my man from the high school days before I actually made a record. Prince and Pharoahe (Monch) went to high school with me. I say I'm one of the most slept on underground MC's in Hip-Hop and I felt the same way about Po. He is a dope MC that people sleep on but he is ill. People need to do their research. But basically we are two of the last of the greats and I feel that now is our time to shine. I'm just getting mines now and I'm grateful. I'm coming out with an album and all this stuff so that's cool and the title is self-explanatory I believe.
Track 13 "Put It On The Line" - as told to ThaFormula.Com
Percee P: That's what I do. I remember once upon a time I used to have a regular day job and I was still making records at the time. But I had a job and I wasn't out as much the way I am now. People know me now because I pop up places trying to grind and sell CD's. So I think nowadays more people know me for coming to clubs, hitting the spots up, bouncing around trying to promote myself which is something I should have done back in the day. So basically I'm trying to make up for all those years. I said if I really want to make it with my music I'ma put it all on the line. So I called it that for a reason.
Track 14 "The Dirt & Filth" Ft. Aesop Rock - as told to ThaFormula.Com
Percee P: "The Dirt & Filth" is me and Aesop Rock and that's the hook that we represent New York and Cali because Aesop Rock is another New York artist that moved to Cali but he is up in San Francisco. He moved to San Fran and got married like last year I believe. "The Dirt & Filth" is over a rock influenced beat. It's straight rock guitar and basically something that is different for me because I wanna break new ground and make new sounds that maybe I've never got a chance to do or people thought I would have never made. I don't want to be predictable. So I think it's a dope beat and I think we are both doing our thing on it, but it's just something different amongst the other collaborations I did.
Track 16 "Mastered Craftsman" - as told to ThaFormula.Com
Percee P: That's my definition of an MC. People say "move the crowd," "microphone controller" and all that stuff. Not everybody is a "mastered craftsman" to me. Just because you can make words rhyme don't make you a "mastered craftsman." If you listen to how I use words and manipulate them to flip and say sentences using patterns and all that, that's a "mastered craftsman," if you know how to use words well and manipulate them to do whatever you want, however you want on a beat, that's a "mastered craftsman." When you listen to that song you will know what I'm talking about. Paint pictures and still use flows and patterns and be making sense too.
Track 17 "Raw Heat" (45 Version) - as told to ThaFormula.Com
Percee P: Okay "Raw Heat" is a hook that Madlib made himself. So it's just raw heat and basically that's what it is. The hook says "Microphones I bust," because that's what I do. I bust microphones like guns. So, "microphones I crush, clones get crushed." You know anybody wack or biting MC's are gonna get crushed is what I mean with that line. I also say on the hook, "A rap cat you really see on the street." That's what I do because I'm always out here and that's the hook. So you really see me out there. You got a lot of cats that talk about how they be grinding and hustling, but you don't really see them. You see me by myself at all times. I ain't one of them artists walking around with entourages, I've never been like that. I've never felt like I wanted to be living that kind of life. So I pop up to a lot of places by myself and I still try to do things that the average person would do. Get on the bus, walk down the street and take the train. Same as I used to do in New York, I try and do it here, but out here is a little different to get around. So basically when you listen to the hook it's saying all that. I'm out here, you can see me and actually walk up to me. A lot of artists they are not accessible to the fans. I mean you can see them at the shows, but you can't walk up to them because they stay back stage, which I never do. I'm always in the crowd coming to clubs early to catch the line waiting to get in. I'm always with the people because the people make you.
Track 18 "The Lady Behind Me" - as told to ThaFormula.Com
Percee P: That is my rhyme style that I have had since way back in the days and I developed her over the years and she has been with me for years. It's a story rhyme and she is a female that has been with me. I have been through my ups and downs with her. Some people thought maybe I should basically go astray or commit adultery on my style but I stuck it out through the hard times and now look, she mad me look good. So you will hear it. I say a lot of things and I get graphic with her. Listen to the song it's real deep and I thing it's genius how Madlib in between my verses put a hook with a voice talking back to me. You got to hear it, I think that is one of my favorite songs.
Bonus Tracks "Untitled" Ft. Wildchild & Medaphoar & "Real Talk" - as told to ThaFormula.Com
Percee P: That one is still untitled and I've still got to get the hook for that. It's basically a song that's recorded and it will be on my remix album. We saved it purposely to make you have a reason to make you go and get this. This "Perseverance" album will have a Remix CD. It was originally gonna be a double disc like the Jaylib, but we are gonna separate it. The remix CD will be all new Madlib beats and we will have that song that's not on here and another song called "Real Talk."
On: How the remix album came about - as told to ThaFormula.Com
Percee P: Every track is gonna be remixed by Madlib. Madlib thought about doing it because he is always into it when he gets your vocals. He always is trying to flip stuff up and maybe come up with other beats and see what he could do with it. So he just started remixing everything. He said "yo we're gonna make a remix CD with this shit" because he made some dope remixes for them too. It will probably drop a few months after this CD.
Final Thoughts On The Album - as told to ThaFormula.Com
Percee P: I feel like from the beginning to the end of my album, there is no skip thorough tracks on there. I feel like if you play it on a good sound system, you can actually play my whole album because I am actually doing different things, telling different stories and time traveling basically. I don't think my style is repetitious at all. So I just want to ask everybody to please go out and support me and this new album and you can go on my Myspace page because I do sell music directly to the fans. If you never get a chance to see me live in the flesh well then maybe you can get online and I personally send out the CD's myself and sign autographs and everything. That is a way you can help me because when I grind I'm not just doing it for love, I'm doing it to survive and it keeps me doing what I like to do. I don't want to have to conform and get no job. I'm a family man but I'm still trying to stick to my dream. The only way I could still do my Hip-Hop is if you support me. Like if you're a promoter or show promoter, you can book me for shows. If you are an artist I will collaborate with you but I do need to make some money so I could take care of things at home. I can't be doing rhymes for free. How could I pay bills and stuff? I need to pay rent and things like that. I need the money and same way if you collaborate with me, my label will pay you to be on my album so you know I need it too. It's not about the money but it is about the money nowadays. Support me because I'm a fan too. So I'm not just saying to buy me, I listen to peoples music to and still go out and buy peoples CD's and if I see you personally, I'd rather put the money in your hand because I wanna make sure you eatin'. So hopefully if you ever get a chance to meet me and you feel like, I'm worthy, here is your chance, I could use the money. I need it right then and there like everybody else who needs to pay bills. I'm just another one. Just because I'm an artist doesn't mean I got my foot up on tables and I don't need to work (laughs).
feedback: info@thaformula.com
Be sure to join the over 600,000 Industry Heads that have signed up to our exclusive mailing list!! Click here to join and receive exclusive interviews only available to members. Leave contact info ( name, email address, city, state, and country) at info@thaformula.com.
.............................................................................................................