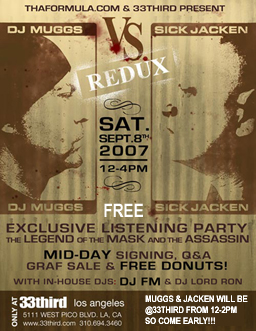 "We are right here at the in-store for the Muggs vs. Jacken release party. I got a fuckin' dick head cop that is telling me that they broke it up because it's a gang party and then he tried to say there was alcohol sales here when he had clearly fucking seen that muthafuckas were going to the liquor store next door and buying their alcohol. It's just a lot of bullshit homie. We are over here trying to do something positive and peaceful for the community and they are over here inciting a riot. They are charging my little homie over here for inciting a riot when they are the ones that incited this shit. Now they got a stand off because they come at people with force. So they got a little stand off situation right now and we're just trying to calm it down because we don't want anybody to get hurt.
Everybody came out here with the intent and purpose to listen to a new record bro and just have a good time and kick it and enjoy the free barbecue. There was kids here bro, women too and these fucking dick heads just come over here and raid it and like they can get away with it bro and the only excuse they got is alcohol sales which is a bunch of fucking bullshit. All I've got to say about it bro is these muthafuckas is full of shit. This muthafucka can't give me a reason for breaking up the shit without cracking a smile, shits fucking wack. They may have won the battle, but they haven't won the war (Laughs). I just want to apologize to everybody for the inconvenience on behalf of Psycho Realm, Soul Assassins, Street Platoon, and 33third man. We apologize for the inconvenience but everybody that was here seen that it wasn't our fault man. Right when we said we were gonna walk down and play the record these fucking pigs walked in and then they wonder why we call them pigs? Everybody, I love you for coming, we appreciate the support, we are gonna make it up to you muthafuckas watch."
Words from Cynic: "Shit they came and did what they do best which is take a positive event with positive energy and turn it into some negative shit and now they are trying to say it was a gang banging party because people on their way out happened to see us up there. Then the cops hear where the fuck they (the fans) were coming from and how far they traveled, they were like "Yo, we're coming from fucking 818 area code in Riverside." But as soon as they heard those words, they were like "oh see it's a gangsta party."
This is just another example of how they don't give a fuck and people have no rights. They can come into a community owned store with no search warrants and just make up excuses as they go as to why they came in here. They had no business being in here. They just made up a bullshit excuse as to why they were in here. You have no rights when you are in the hood. We are dead smack in the middle of L.A. where you have nothing but Black and Brown people here. 2 miles up is Melrose, but right here it's still the hood and there is a lot of poverty. So they stay here harassing people. As we walked up, they were in the corner harassing homeless people hanging out on the corners. They were harassing them first. They seen a gathering here and they came and harassed us.
They are racially profiling and the Patriot Act gives them the right to do that and profile people. It's an unfortunate situation because nobody was doing anything wrong at all. People from different places came to gather and hang out and the cops came and ruined it and turned good energy into some bad energy. Then they hope somebody acts up so they can beat them down and take them to jail for no good reason."
33third L.A. & Thaformula.Com Present Once Again This Saturday September 8th, 2007 12-4pm DJ Muggs Vs. Sick Jacken Exclusive Listening Party 2: For The Fans @33third Los Angeles...
It All Goes Down:
This Saturday September 8th, 2007...
Time: 12pm-4pm
Where: 33third Los Angeles 5111 West Pico Blvd. Los Angeles, CA 90019
Info: www.thaformula.com & (310) 694- 3460
THIS EVENT IS FREE: EVERYONE WELCOMED
NO RSVP REQUIRED!!!
**ATTENTION** DJ MUGGS & SICK JACKEN WILL BE @33THIRD FROM 12-2PM SO BE SURE TO SHOW UP EARLY. WE WILL BE PLAYING THE ALBUM ALL DAY...
---
Sick Jacken Myspace: http://www.myspace.com/sickjacken
Police Break Up DJ Muggs Vs. Sick Jacken Listening/Signing:
............................................................................................................
sICK JACKEN of THE PSYCHO REALM JOURNAL ENTRY #1
Tuesday August 28th, 2007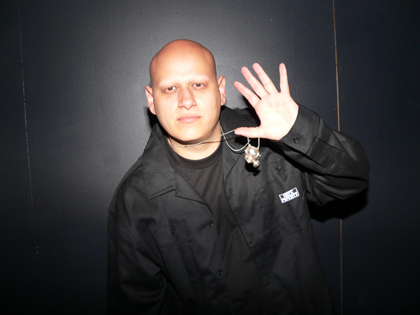 "I'm just right here knocking out interviews trying to get ready for the release in 3 weeks and battling the label trying to get all this shit cracking. Trying to get them to do what they said they were gonna do has just been an uphill battle with this thing.
Other than that, I've just been living the life you know? Just trying to see what my next move is gonna be. I'll probably jump into my Spanish record and also Big Duke wants to do something. He's got something in the works that he wants to start pushing right after this record launches. So really the focus right now in my everyday life is waking up, going to sleep and thinking about this shit. It's about launching this RMG (Rebel Music Group), putting this record out and making sure it cracks, getting everything set up and just bringing some light to the label. I've got to get ready to do all the promo shit and touring. I'm looking forward to that because I need a vacation and that's pretty much it right now. 9/11/07 is the release date for "The Legend of the Mask & The Assassin."
Two singles are available on iTunes, it's only $1.99 so if you got 2 bucks you can support the movement and let muthafuckas like me keep doing what I do. If you don't like it don't buy it. But if you do, support the movement."
---
Sick Jacken Myspace: http://www.myspace.com/sickjacken
Legend Of The Mask & The Assassin Trailer
feedback: info@thaformula.com